Keep Your Customers Returning!
Started taking calls and cam sessions on ChatRecruit? Want customers to keep coming back?! With a large range of chat hosts it's important to take pride in your profile. This ensures that your profile gets promoted to its full potential. We have several ways in which you can reach out to your regulars and catch the eye of new users to our services!
When you log on to provide phone or webcam chat you can publish a 'Shout Message'. This let's service users know that you are online and available for fun! Be as imaginative as you can – let users know you are ready for some fun, and what you are available for! You might be thinking of a particular fantasy today, wearing a special outfit, or have new toys to play with. New and existing customers can look at all the latest Shout Messages from live hosts. They will often make a choice on who they want to connect to based on what they read!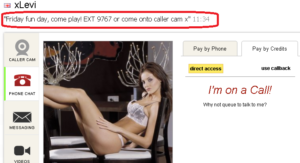 Registered users on our services also have the option of adding a host as a 'favourite' on their account. This means they can sign up to alerts which let them know that you are online! You have the option to send your followers a Broadcast Message. This means you can send little shout-out to all your followers at once. You might remind them when you will next be online, if you have uploaded new videos, or new content to your FanClub!

Don't forget the benefits of connecting your Twitter account to ChatRecruit! Again, when you log on to work we will publish an automated tweet on your Twitter feed. This lets your followers know that you are online for cams or phone chat! You can pick up new business via Twitter when you add your own little daily tweets, teaser pics and videos. This lets users know that you are looking to connect!
As well as putting on a great performance for your customers it is important that you remind them that you are online and providing the best content on your profiles! The hosts who make the effort in doing this are earning top money and bonuses!