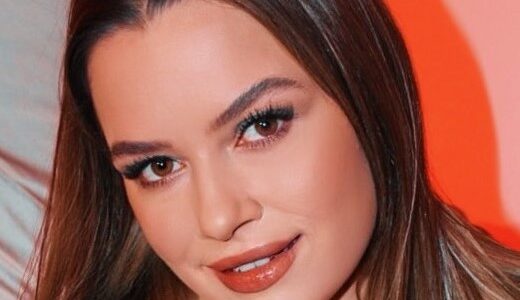 Why I Quit OnlyFans: Confessions of an Adult Content Creator
Jennifer Kelly was one of 1.5 million content creators who thought they were living the dream on OnlyFans. For over two years, the glamour model and TV personality was raking it in by selling naughty pics and videos to her adoring fans on the site. 
But in August last year, that dream came crashing down fast. 
A shock policy change announcement forced Jennifer to ask herself some tough questions. Like, is OnlyFans actually safe? Does it care about all of its creator community? Or has it just been exploiting adult content creators to build its multibillion-dollar fortune? 
Now Jennifer is among the thousands of ex-OnlyFans creators building her fanbase and content business elsewhere online. 
What is OnlyFans?
Launched in 2016 by Tim Stokely, the son of a former investment banker, OnlyFans describes itself as a "social subscription network". 
Just like ordinary social networks (such as Instagram or YouTube), anyone can sign up and start posting content. However, the difference is that only fans who pay a monthly subscription fee can see, like, and comment on that content. 
"When I first heard about how OnlyFans works," explains Jennifer, "I was so excited. It seemed like a really empowering way to make money – selling my own content, to my own fans, on my own terms."
And it's not just subscriptions. Content creators on OnlyFans can supplement their income by selling pay-to-view messages to fans for up to $50. Plus, they can pocket tips of up to $100 a time. 
It's free to start earning on the site. But OnlyFans takes a 20% cut of anything creators make. 
Why are creators ditching OnlyFans?
OnlyFans likes to paint itself as popular with lifestyle influencers, fitness pros, and artists who want to get paid to share exclusive content with their followers. 
But the truth is, the vast majority of creators on OnlyFans are adult performers and models like Jennifer, selling access to nudes and NSFW content. 
Indeed, sex workers have played a vital role in popularising OnlyFans and helping the site built its fortune. 
So it's no surprise that the community was shocked when, in August last year, OnlyFans announced it would be banning "sexually explicit content". 
Despite blaming the decision on pressure from banks, the site faced huge backlash. 
"I couldn't believe what OnlyFans were saying," continues Jennifer, who also stars on the UK babe channel Xpanded TV. "It felt like OnlyFans had used adult workers to get big. And now they didn't need us anymore, they were turning their backs on us just like that.
"I know so many creators who were left fearing for their livelihoods. They'd worked hard to build their fanbase on OnlyFans and make it their full-time business. What did they expect us to do next?"
OnlyFans has since performed a U-turn on the adult content ban, saying they've "secured the necessary support" to suspend the policy change until further notice. 
For many creators like Jennifer though, it's a case of too little too late. 
"I wouldn't feel safe relying on OnlyFans to make a living anymore," she explains. "They might have suspended the ban for now, but you never know when it's going to pop back up. The uncertainty is terrifying. I've just lost all trust in them I guess."
Rising alternatives to OnlyFans
Since the policy change scandal, thousands of creators have left OnlyFans for alternative sites. Popular choices include Fansly, LoyalFans, Fanvue, and AdmireMe. 
There's also SoSpoilt, where Jennifer now earns.
"Like a lot of creators I know, I was really worried about switching to a different site," says Jennifer. "It felt like a huge risk. I'd been on OnlyFans for over two years. And in that time, I'd built a loyal following, with over 400 paying subscribers.
"But after what OnlyFans had done, I couldn't stay there. And switching to SoSpoilt was actually a lot easier than I thought. 
"I've had no trouble moving all my content over. Plus, my fans were so supportive and understanding. Most have followed me here. And I've gained a lot of new fans, too, because a lot of Xpanded TV viewers are already signed up to SoSpoilt."
Jennifer says switching to SoSpoilt has not only helped to strengthen the relationship with her fans. It's also strengthened her income. 
"Because it's so well-known, I always thought OnlyFans was one of the better sites out there. But SoSpoilt actually has a lot of features that aren't available on OnlyFans. 
"For instance, I can charge fans for one-off live video or voice chats. So it's been really lovely getting to know them better in one-on-one and group conversations. 
"It's become part of my routine now. After every show on Xpanded TV, I jump on live chat to take personal requests, talk about the show, and stuff like that. It's so much fun – and I feel much better connected to my fanbase. 
"The fact that SoSpoilt charges lower platform fees than OnlyFans is just an added bonus," laughs Jennifer. "It means more of what I earn from my fans goes into my pocket."
What about the adult creators still on OnlyFans?
While Jennifer has managed to successfully rebuild her business away from OnlyFans, she knows that many adult creators continue to rely on the site. 
"If I could give one piece of advice to all the adult creators still on OnlyFans," says Jennifer, "it would be to really think about the future.
"OnlyFans might be working for you now, but what are you going to do when the rules do eventually change? What will happen to your content, your fans, and all your income when they ban adult material?"