Being A Psychic Host on ChatRecruit
Our psychic service has been flourishing and it is thanks to the fantastic readers that we have providing guidance to thousands of users around the world!  As well as having a great feeling of being able to provide positive advice to users via phonechat, messages, and extended message readings, our hosts have the freedom of being able to log on whenever they want, for as long as they want!
Some people may think that being a psychic host means you have to be able to do tarot, astrology, or using spirit guides only. This is not the case at all! We welcome many psychic methods, and also those hosts who can offer guidance on relationships and life in general.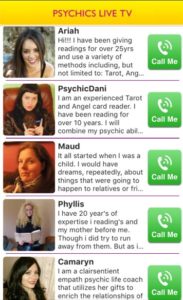 As well as being able to offer live phone chat and messaging, service users are also able to book a phone chat session with any psychic host of their choice! This means our hosts can accept sessions for blocks of time and be prepared in advance. Plus there is the extra security of knowing you are going to be paid for a block of time, with potential repeat customers. You can accept booked sessions around your working life – which means you have more flexibility!
Being able to work on the go from your mobile or tablet ensures that you can respond to messages direct from your ChatRecruit inbox, without having to log onto phone chat. Our messaging service is very busy and hosts can make a lot of extra cash by replying regularly and building up their own business!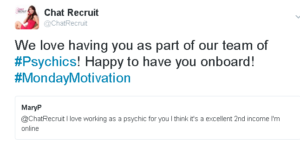 If you have the gift of psychic ability or have a guiding personality that is happy to listen to others then this could be the perfect income for you!  We have a legion of happy psychics working on ChatRecruit helping and offering their own counsel to people around the world, and our team is growing!